Gladys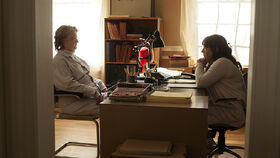 ---
---
---
---
---
---
"Gladys" is the fifth episode of Season 1, and overall the fifth produced hour of The Leftovers. It originally aired on July 27, 2014.
Laurie's resolve is put to the test in the wake of a brutal hate crime. After his latest initiatives to maintain the peace in Mapleton fall short, Kevin turns down an outside offer to rid the town of its problems. Matt brings his pulpit to the street. Meg takes on a new role.
---
Remy Auberjonois as ER Doctor

Jeremy Burnett as Young Cop

Ray Cassar as Another Dude

Samrat Chakrabarti as Faisal

Calvin Dutton as Young ATFEC Agent

Jason Furlani as Cop

Aimee Laurence as Amanda

Traci Hovel as Mom in Parking Lot

Dennis Jordan as Beleagered Guy

Bill Krakauer as Elderly Man

Stephanie Kurtzuba as Sabrina

David Neal Levin as Morgue Colleague

David Mason as Father in Parking Lot

Katt Masterson as Waitress

Danny Mastrogiorgio as Agent Kilaney

Wade Mylius as Dog Owner

Antonio Oritz as Donnie

Jeremy Paschall as Guy in Crowd

Frank van Putten as Morgue Attendent

Alberto Vasquez as Burt

Anne Rutter as Town Hall Meeting Woman

Akaash Singh as Dry Cleaner Employee

Tony White as Tough Man

Ray Wiederhold as Moustache ATFEC Agent
Recurring Themes
Edit
Cultural References
Edit
Ad blocker interference detected!
Wikia is a free-to-use site that makes money from advertising. We have a modified experience for viewers using ad blockers

Wikia is not accessible if you've made further modifications. Remove the custom ad blocker rule(s) and the page will load as expected.