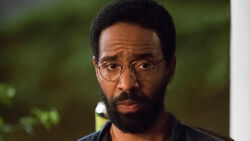 John Murphy
---
---
Occupation
Jarden Fire Department (Formerly)
Fortune Teller
---
Residence
Miracle, Texas, U.S.A.
---
Appearances
Gallery (1)
John Murphy is a resident of Jarden "Miracle", Texas. No longer with the Jarden Fire Department, John has found a new way to help people who come to the town looking for answers. He is the father of Michael and Evie, and Erika's ex-husband.
Ad blocker interference detected!
Wikia is a free-to-use site that makes money from advertising. We have a modified experience for viewers using ad blockers

Wikia is not accessible if you've made further modifications. Remove the custom ad blocker rule(s) and the page will load as expected.