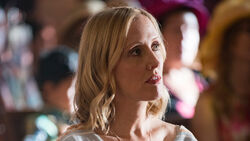 Mary Jamison
---
---
Residence
Miracle, TX, U.S.A.
---
Origin
Mapleton, NY, U.S.A.
---
Appearances
Gallery (1)
Mary Jamison is Matt Jamison's wife.
After several years of paralysis from a terrible accident on October 14, Mary has regained use of her legs. Her husband Matt considers her experience an example of the town's miraculous benefits.  
Ad blocker interference detected!
Wikia is a free-to-use site that makes money from advertising. We have a modified experience for viewers using ad blockers

Wikia is not accessible if you've made further modifications. Remove the custom ad blocker rule(s) and the page will load as expected.