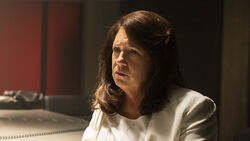 Patti Levin
---
---
---
---
---
Occupation
Leader of Mapleton's Guilty Remnant
---
---
---
Appearances
Gallery (24)
Patti Levin was the leader of the Guilty Remnant's Mapleton chapter, where her no-nonsense attitude helps her orchestrate the group's increasingly strange behavior.
Biography
Edit
Before the Sudden Departure
Edit
Patti was a patient of Laurie Garvey who lived in fear that something very bad was imminent.
After the Sudden Departure
Edit
Patti is the director of Mapleton's Guilty Remnant chapter. She takes a special interest in Laurie after she joins. She is kidnapped by Kevin Garvey during one of his blackouts. When he comes to his senses and attempts to release her, she commits suicide by slitting her throat. She now haunts Kevin's psyche, promising to help him if he just acknowledges her existence.
Season 1
Edit
Season 2
Edit
Season 3
Edit
Ad blocker interference detected!
Wikia is a free-to-use site that makes money from advertising. We have a modified experience for viewers using ad blockers

Wikia is not accessible if you've made further modifications. Remove the custom ad blocker rule(s) and the page will load as expected.