Penguin One, Us Zero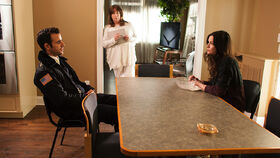 ---
---
---
---
---
---
"Penguin One, Us Zero" is the second episode of Season 1, and overall the second produced hour of The Leftovers. It originally aired on July 6, 2014.
In the wake of a series of disturbing encounters, Kevin pays a visit to a therapist. Tom finds himself in a precarious situation with Christine, a favorite of Wayne's. A frustrated Meg is asked to part with pieces of her past. Jill and Aimee tail Nora Durst, who became a local celebrity when her entire family disappeared in the Departure.
---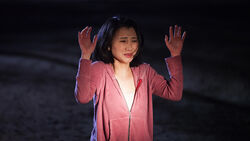 After deducing that Wayne Gilchrest is a national threat due to his involvement with US congressmen, a unit of ATFEC agents raid his farm in Nevada, killing guards and arresting his groupies. Christine attempts to flee, but is caught and held at gunpoint, with the agent threatening to shoot her if she does not reveal where Wayne is. Tom shoots the agent dead, and hides with Christine underground.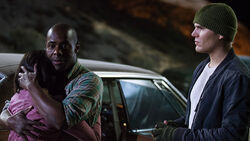 The following day, Tom and Christine arrive at a kitchen where they find some of Wayne's followers, dead. Wayne arrives shortly afterwards, and acknowledges Tom's internal anguish following his murder of the ATFEC agent. Wayne suggests to hug the "poison" out of Tom, who refuses, leaving Wayne puzzled and visibly upset. Later that night, Wayne reveals that he must disappear, and leaves Christine under Tom's protection, warning him that she is "everything." He gives Tom a new cellphone, and warns them to never use their ID's. Back in his car, Tom has a mental breakdown when the car dies on them, while Christine promises him that it will be okay, according to Wayne.
In a dream, Kevin is woken up by Aimee in his bed, who leads him outside to a forrest, where the dog-shooter is observing Laurie. As she starts running, Dean shoots, and warns Kevin of a fire that is burning his feet. Kevin wakes up to the sound of fire, and discovers his erratic neighbour burned his Departed brother's belonging along with his fence. Later that day, Kevin is in a session with Anthony, his therapist, who questions him about his mental state, Laurie, and the "Mystery Man" that supposedly shot the dogs along with Kevin. It appears that Dean left before people arrived at the scene. During the meeting, Kevin notices an inflatable penguin, which Anthony explains is for kids who need to use it for aggression. Afterwards, Kevin questions his deputy, Dennis, regarding the search for the Mystery Man's pick-up truck. However, since they do not have a sketch of the man or a name, finding the truck is harder than usual.
Jill and Aimee walk towards a coffee shop, passing by Matt Jamison who hands them a new page from his tabloid publishing, proving that the Departed were not good people. At the coffee shop, the two see Nora Durst, the woman who lost her husband and two children during The Sudden Departure. They notice she has a gun in her purse, and are amused to see her pushing her coffee cup off the table to avoid paying for it, knowing the barista would recognize her and let it go. They decide to skip school and follow her, with Aimee taking Scott and Adam Frost's car, along with them, on the stakeout. As Nora walks out the coffee shop, she comes across Matt, and the two hug.
At the Guilty Remnant Pledge House, where the newest recruits adjust to their news lives, Laurie takes Meg to a nearby forest, where she instructs her to chop down a thick tree with an unsharpened axe. Meg, frustrated, gives up and returns to the Pledge House. She is soon visited by Kevin and Dennis, who respond to a Missing Person report filed by Meg's ex-fiancé, Darren. Kevin questions Meg, who assures him that she is with the G.R. on her own will, and does not need his help. However, she keeps his card. While there, Kevin also reports to another new recruit, Ron Jensen, that his family is looking for him.
Peter Berg as Pete

Brendan Burke as A-Hole

Toni Di Buono as Paul's Wife Ginni

Anthony Di Maria as Tactical Agent Kryczeck

J.J. Dunlap as Scruffy Barefoot Person

Ian Campbell Dunn as Coffee Shop Barista

Tracy Friedman as Bobby

Susanna Guzman as Betty

Travis Hammer as Arresting Tactical Agent

Bill Heck as Darren Finnerty

Kyle Mattocks as Tactical Agent Curtiz

Angel Pai as Ranch Girl #1

Frank Ridley as Neighbour Paul

Jenna Stern as Agent Jennifer Freschette

Emily Soell as Emily McKay

Mikal Vega ATFEC Commander

Gary Werntz as Deputy Director Harris Kurtz

Linn Yen as Ranch Girl #2
Recurring Themes
Edit
Cultural References
Edit