Solace for Tired Feet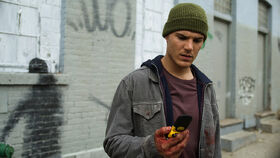 ---
---
---
---
---
---
"Solace for Tired Feet" is the seventh episode of Season 1, and overall the seventh produced hour of The Leftovers. It will air on August 10, 2014.
After learning his father has escaped the psychiatric hospital, Kevin orders an APB to track him down. Jill attempts to break an endurance record. Holed up in Indiana, a disillusioned Tom makes an unsettling discovery.
---
Laurie stares at posters of Gladys with the caption 'Save Them'. With the help of other G.R. members she begins to pull them down. As she is about to light a cigarette, she hears teenagers behind her and sees Jill and her friends loading groceries into the car. Jill stops to stare at her and looks away.
Jill, Aimee, the Frost Twins and others are hanging out at their drinking spot in the woods. Scott is inside an abandon fridge trying to break the record for amount of time spent inside but he gives up. Jill steps up to the challenge and gets into the fridge.
Kevin and Nora are on their fourth date. Nora invites Kevin over to her place for the first time. He texts Jill to let her know that he won't be back home.
Back inside the fridge, Jill receives his text and answer just as shes about to break the record. The group countdown the remaining seconds but when they try to open the door the handle comes off, Jill is stuck inside and running out of oxygen. She is about to pass out from lack of oxygen when the door suddenly opens and Kevin Garvey Sr. pulls her out. He tells her not to tell her that she saw him before running off into the woods.
---
Jeremy Burnett as Officer

Nandita Chandra as Pharmacist

Nadia Gan as Liane

Johnny Hopkins as Bryan

Randall Marquez as Marvin

Recurring Themes
Edit
Cultural References
Edit