The Prodigal Son Returns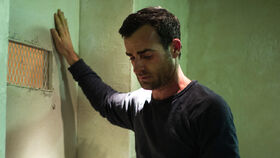 ---
---
Air date
September 7, 2014
---
---
---
---
"The Prodigal Son Returns" is the tenth and final episode of Season 1, and overall the tenth produced hour of The Leftovers. It originally aired on September 7, 2014.
An unexpected ally helps Kevin get out of a jam near the town of Cairo. Meanwhile, an elaborate Memorial Day initiative by the Guilty Remnant plunges Mapleton into chaos. Also, Holy Wayne grants a final wish, Tom copes with his new reality, and Nora makes a life-changing decision.
---
Viki Boyle as Older Crying Woman
Marjorie Johnson as Weeping GR
Adam McNulty as SWAT AFTEC #1
Tony Mitchell as Orderly #1
Geoffrey Owens as Kind Man
John Sharian as Agent Davidson
Recurring Themes
Edit
Cultural References
Edit
Ad blocker interference detected!
Wikia is a free-to-use site that makes money from advertising. We have a modified experience for viewers using ad blockers

Wikia is not accessible if you've made further modifications. Remove the custom ad blocker rule(s) and the page will load as expected.