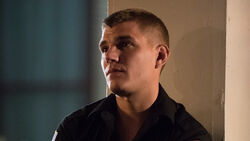 Tom Garvey
---
---
Occupation
Former college student
---
---
Residence
Miracle, TX, U.S.A.
---
Origin
Mapleton, NY, U.S.A.
---
Appearances
Gallery (24)
Tom Garvey is Kevin and Laurie Garvey's son who followed Holy Wayne, a powerful prophet. Back with his family, Tom has started working with Kevin in the police department.
Biography
Edit
Before the Sudden Departure
Edit
After the Sudden Departure
Edit
Post-departure, Tom witnessed two students jump off of a roof at college.
Kevin is Tom's adopted father/step-father. Tom's real father is named Michael. Michael has another son from another relationship.
Ad blocker interference detected!
Wikia is a free-to-use site that makes money from advertising. We have a modified experience for viewers using ad blockers

Wikia is not accessible if you've made further modifications. Remove the custom ad blocker rule(s) and the page will load as expected.