Two Boats and a Helicopter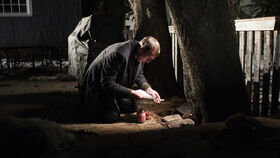 ---
---
---
---
---
---
"Two Boats and a Helicopter" is the third episode of Season 1, and overall the third produced hour of The Leftovers. It originally aired on July 13, 2014.
In the face of dwindling church attendance and threats on his life, Reverend Matt Jamison continues to preach his gospel: that many who disappeared in the Departure were sinners and not saints. Matt's campaign is detoured when he learns he may lose the church to foreclosure, forcing him to launch a desperate, last-minute plan to come up with the cash to keep it.
---
Leslie Alexander as Casino Cashier

Remy Bennett as Tina

Helmar Augustus Cooper as Jim Lewis

Jane Dashow as ER Nurse

Chaka Desilva as Pit Boss

Tristan Farmer as Mr. Jamison

Michael Harrah as Doctor

Mike Houston as Porter

Stephanie Kurtzuba as Sabrina

Johnnie Mae as Nurse (After Dreams)

John Mainieri as Coupier

J. Paul Nicholas as Orderly

Steven Randazzo as Angry Gambler

Mary Rasmussen as Mrs. Jamison

Alan R. Rodriguez as Frank

Peter Scanavino as Skinny

Recurring Themes
Edit
Animals: Matt encounters pigeons on three different occasions: one pigeon on the front step of his church; two pigeons inside the casino, on a roulette table; and three pigeons on top of a red traffic light.
Dreams: After getting hit with a rock, Matt has a series of dreams, mixed with past memories. These include his church being run by the Guilty Remnant; his leukaemia diagnosis; the burning of his house and the death of his parents; his and his wife's car accident on October 14th; having sex with Mary, who then turns into Gladys and Laurie.
Cultural References
Edit
The title of this episode is a reference to a joke: [1].